Upcoming Events

Webinars on tech & the future of work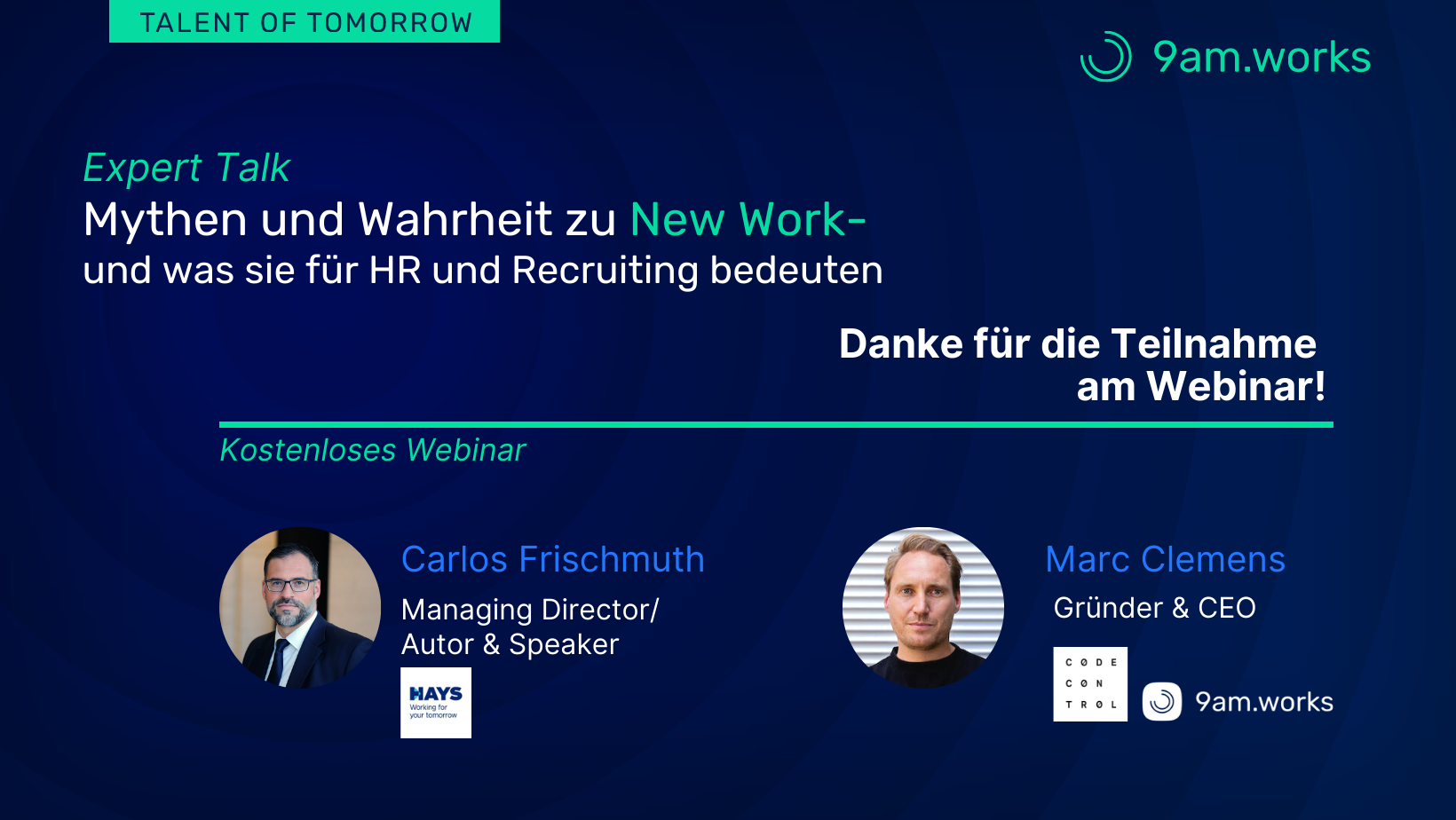 Key Take-aways:
Rund um den Trendbegriff New Work gibt es viele Mythen: Alle wollen nur noch remote arbeiten, agile Arbeitsweisen sind das einzig Wahre, selbstführende Teams sind immer erfolgreicher und das klassische Angestelltendasein wird es bald nicht mehr geben. Aber was ist wirklich dran an diesen Überzeugungen und welche werden auf lange Sicht keine große Rolle mehr spielen? Worauf kommt es für HR und Recruiting jetzt an? Darüber sprechen Carlos Frischmuth, Autor und Managing Director bei Hays, und Marc Clemens, Gründer und CEO von 9am und CodeControl, im Expert Talk.
Dabei geht es unter anderem um diese Fragen:
Wie sieht die HR der Zukunft aus?

Wie muss Talent Management aufgebaut sein und welche Rolle spielen externe Spezialisten und Freelancer dabei?

Welche Skills sind nötig, um Unternehmen wettbewerbsfähig zu halten?

Wie gelingt Mitarbeiterbindung in der neuen Arbeitswelt?

Wie kann und muss sich die Politik auf die Veränderungen einstellen?
Über die Speaker:
Carlos Frischmuth
beschäftigt sich als Praktiker seit über 20 Jahren mit der Arbeitswelt und kennt die unterschiedlichsten Facetten des Arbeitsmarktes. Als Managing Director im internationalen Personaldienstleistungskonzern Hays verantwortet er die Bereiche Public Services, Legal und Healthcare und leitet zudem die strategischen Unternehmensbereiche Compliant Sourcing und Public Affairs. Sein Buch "New Work Bullshit" beschäftigt sich mit den Veränderungen des Arbeitsmarktes und arbeitet Themen heraus, die in der Arbeitswelt von heute und morgen wirklich zählen.
Marc Clemens
ist Gründer und CEO von CodeControl und 9am. Er ist Serial Entrepreneur und studierte an der Universität St. Gallen und der HEC Paris. 2016 gründete er CodeControl, einen kuratierten Marktplatz und eine Community der besten Tech-Freelancer Europas. Mit 9am hat er eine Plattform aufgebaut, die einfache Zusammenarbeit zwischen Unternehmen und Freelancern ermöglicht.